The theme for April was "finances." The first 4 are finance related & the others were just general goals I had for the month.
Linking up with Steph.
1. Put no more than $150 on my credit card (only use for Luckenbach)
This one probably would have been fine if I had not remembered that I was due for an oil change that I couldn't put off & then had to pay someone to do my lawn because the HOA complained & I'm only home when it's dark/rainy thanks to softball.
2. Only eat out 4x max
Late nights due to softball meant a lot of eating out.
3. Only go to the grocery store once a week
I had all my meals planned out & made myself suck it up if I wanted something else I couldn't make. I have all of May planned out too. And ya know...eating out meant I didn't go through a lot of food at home...
4. Have $400 in savings
Of course I turned around & used it to pay for some moving expenses but my plan all along was to just use the whole lump sum to pay off part of my credit card so it seemed smarter to use this for the expenses rather than putting it on my card & paying it off later...
5. Average 7000 steps a day
I averaged 6,749 steps a day...just 251/day short...
6. Complete 100 photo challenge
9 of the last 10 days of my #100HappyDays challenge on Instagram
7. Finish a coloring book
Between softball, getting ready for state testing, & putting prom together I barely had enough time to get the shit I needed to accomplish done.
8. Donate blood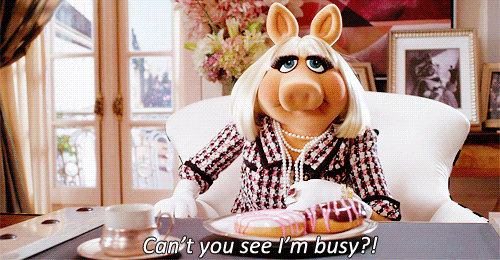 Basically I just need it to be June...because May isn't looking any better #MovingProblems
9. Keep my nails painted/don't bite them
They are finally getting long & pretty! Now I just need to keep them this way & hopefully get myself a mani/pedi pre road trip in June.
10. Watch the sunrise/sunset in the same day
This is something I've done before & I WILL do it again. The chances of it happening before the school year ends though...slim to none. 4 more weeks.
So the theme for May is "Read."
Originally I had some lofty goals in mind for this one. Now it's simple. I have one reading goal & the rest are general goals. This month is going to see fewer general goals that the past few have had as well. Why? Well if March & April have taught me anything it's to not try to take on more than possible. May is my last month at work which means preparing for finals, completing end of the year checklists, & really cleaning out my classroom since I won't be returning. May also means packing up & cleaning my house, driving 4 hours to put stuff into storage once or twice, & moving out of my house into a hotel. I'd also be over the moon if May meant finding a job & a place to live for next August but I'll just take that one as it comes...hopefully sooner rather than later.
So here are my goals:
1. Finally finish reading The Notebook
2. Average 7000 steps a day
3, Have everything for road trip packed/booked
4. Decide what in my house needs to be put in storage/kept/donated
The end. If I happen to accomplish more then I'll be over the moon. If not...summer vacation is so close I can taste it!