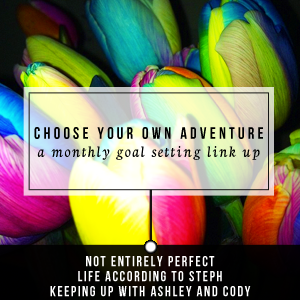 January's goal topic was "complete." The idea was to complete goals that you always start but never finish. My goals for this topic were #3 & #9:
1. No using credit cards except for Dallas
Not sure how to classify this one. Yes & no? I didn't use it for Dallas at all. I used money I actually had for that. However, I did have to go to the doctor & get meds which I did use my credit card. I put less on my credit card than I spent in Dallas sooo win?
2. Average 10,000 steps a day
Not even close. I averaged 4877 a day.
3. #100HappyDays 1-31
If you want to see all of them for the month you can follow me on Instagram @briannemcc #100HappyDays. Here's some of them though:
4. Read 5 books
1. The Happiness Project
2. American Sniper
3. Mediator
4. Cash
5. Send a card to someone
I had wished Favorite College Roommate happy birthday ON her birthday, multiple ways actually, but had never gotten her a present. I had meant to give it to her while I was in Minnesota but forgot it on the day we finally hung out so I sent her a card & a gift 5card when I got back to Texas.
6. Save for 52 Week Money Challenge
I put $50 into savings this month for the challenge (weeks 11-14)
7. Write daily in "6 words a day" journal
So my overall goal is to do this every day that I'm 26. So far so good...I'll never do it again though. It's easier than trying to do a full blown journal entry but 6 words is also weird...sometimes it's fine but other times it's near impossible to sum up a day in 6 words.
8. Work on 5 goals for 101 in 1001 2.0
a. I made a random recipe
b. I haven't bitten my nails yet but I'm still calling that one a work in progress
c. I finally got myself a library card & actually used it
d. I'm in the process of finishing a coloring book (I may be taking the easy way out & doing a small color by numbers but I'm so anal about coloring & coloring books...)
e. I went to a drive in movie
9. Complete Fab Abs
No. Just no. I need to write those things out & have them visible. Having to look at my phone or online everyday to see what the
workout for t
h
e
day is does
not work for me.
10. Cancel gym membership
Yes & no? I sent in the request for it to be cancelled but apparently my membership got switched to month to month so I had to give them a 30 day notice.
February's topic is "create." My goals for this topic are:
1. Make 4 new recipes from Pinterest
2. Make 2 DIY projects from Pinterest

My other goals for the month include:
3. No credit card except for San Antonio & Lone Star Jam
4. Average 5,000 steps a day
5. #100HappyDays 32-59
6. Read 4 books
7. Send out my February card
8. Save for 52 Week Challenge
9. Write in 6 word journal every day
10. Work on 5 101 in 1001 2.0 goals
11. Complete 28 day squat challenge