I was 6 when FRIENDS first aired. Yes, only 6. As far as I know I wasn't watching FRIENDS at the age of 6 but I was definitely watching it later on & have seen every single episode...I'm also re-watching it right now on Netflix. Now, just over a decade after we all cried our eyes out during that series finale, I'm basically the same age they all were during the show. I'm at the back side of my 20's which either scares me, exhilarates me, or gives me no feelings whatsoever depending on the day. While my life isn't really all that similar to the show (is anyone's life really like that? If so I'm jealous). However, some things are just timeless & I can relate to 20 years later.
For real though...maybe not desperate but definitely not where I thought I'd be.
It took some time, & I should still work out more just because it's good for you, but I love my body the way it is.
Bri either Joey, Bri either...
I feel this way at least once approximately 175 days of the year...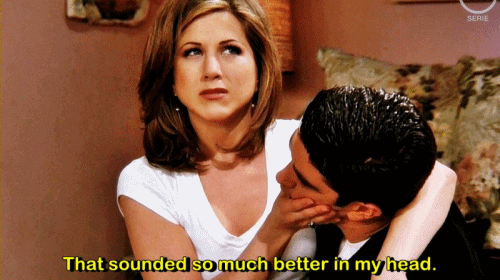 My filter is starting to falter...I should probably replace it...
Life is far too short for regrets
I'm great at listening, great at sarcasm, so so on the advice...especially cause I'm bad at following my own.
Remember my love life...jk. Except I immediately thought of Chipotle.
If I don't want to do something...I no longer do it.
This one just made me laugh...except I don't think I've once called it making love...even when I was in love.