The official day of winter is just 3 days away! Let's be honest though, it's been here for awhile. No matter where in the country you are, you've had at least a few cold days, even if that cold is relative. Don't forget that just a month ago every single state hit below freezing at least somewhere in the state. Tomorrow I leave the 50s & 60s behind for two weeks of 20s & 30s. I've been asked the question before by people who have only ever really lived in warm weather states how I stay warm & cozy in below freezing temps so here y'all have it, my essentials to keeping warm & cozy.
Hot Chocolate/Coffee
Now granted I'm the weirdo that will drink hot chocolate even in the middle of summer just because I want something chocolaty, but I drink it a lot more in the winter. I almost always have something warm to drink in my hands whether it's coffee in the morning or hot chocolate (preferably mint and/or with lots of marshmallows) the rest of the day.
Layers
Layers are essential. This is even more true when you're going from house, to car, to store, to store, to store...or wherever you're going. Even when I'm sitting in the house though I usually have a hoodie on over what ever top I'm wearing for the day.
A Good Blanket
Preferably fleece. I love blankets & will not sit on the couch without one. Not only does it keep me extra warm it just makes me feel all comfy & cozy too.

Warm Socks/Slippers
I can have pretty crappy circulation so my feet get cold so easily. I love wearing my wool socks to keep my feet warm. If I'm just wearing a regular pair of socks I'll have to put on a pair of slippers...and of course curl up under the blanket.
Fake Fire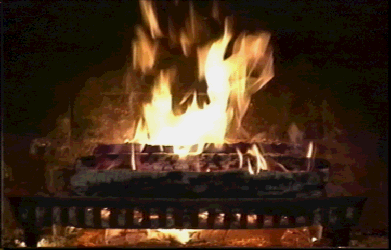 My parents don't have a fire place (neither do I actually) but every year when that burning fire would come on TV (you know the one I'm talking about) we would put it on the TV while we did stuff around the house. It started out as a joke & then just sort of kept happening every year.
Comfy Bed
I love making coffee in the morning & then laying in bed with a good book. Parachute Home bedding looks great and they have everything you need from pillow cases to duvets to blankets.