We woke up My alarm went off at the ass crack of dawn. We ever so slowly woke up & got ready for our big adventure. First stop, WALMART!
We had decided prior to the trip that we didn't want to have to do fast food stops for lunch so we grabbed some fruit, vegetables, & meat/cheese trays to go along with our crack dip & chips. While we could, & basically did, live off crack dip we figured we better get some actual food as well.
Finally at 8:30 in the morning we were ready to whip out the maps & say "Fuck Frank!" (My GPS) & be on our way to Louisiana. Of course we couldn't start our trip without first playing The Way by Fastball. It became our anthem for the trip. Originally Texas Plates by Curtis Grimes was supposed to be our anthem but we wanted to throw it back to our very first road trip in 1998 to good ol' South Dakota where The Way played, I shit you not, at least once an hour every fucking hour. We of course tried to do the same...
Upon crossing the Texas/Louisiana state line we aimed Trusty Stead (the new name of my car) towards Holly Beach. Unlike last time, we decided NOT to drive out onto the sand like the others so that Kickass Cousin wouldn't have to push Trusty in order to get us out.
After Holly Beach came the ferry. This time we actually got out of the car to walk around. It was at this moment that our fate was decided for the rest of the trip. We officially became "those girls." Ya know, the ones making a fool out of themselves for the sake of memories.
Our destination for day 1 was The Big Easy. While the logical route from Houston to New Orleans would be I-10 East, a quick 5 hour drive, we being us decided freeways be damned & took back roads most of the time. If it weren't for back roads there wouldn't have been a Holly Beach. There wouldn't have been a ferry ride. There wouldn't have been a stop to buy pickled quail eggs where we also spotted a gator swimming in the creek across the road.
There probably would've still been the creepy man trying to get us to flash him by pretending to lift his shirt & saying "FLASH" over & over. No good sir, we will not flash you. We encountered that sweet gentleman just outside of NOLA. Thanks for the welcome...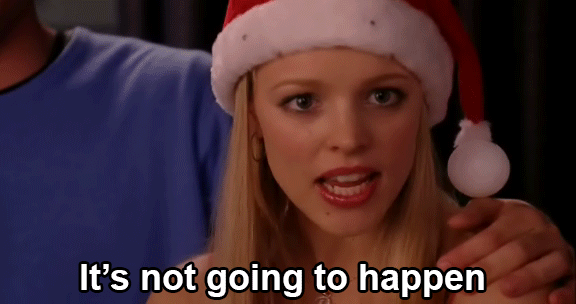 (This GIF is dedicated to Kickass Cousin who puts up with all of my Mean Girl references despite having never seen the movie. Although by now she's probably heard the whole thing from me...)
After about 7 hours on the road (5 hours less than our last back road Louisiana trip) we arrived in the ghetto. Because that's how Kickass Cousin & Bri do... Despite being located at the doorstep of a questionable neighborhood our hotel was so adorable. It was built to replicate the old houses in the French Quarter. Next time we take a trip though we're definitely raising the budget... and/or using AirBNB (more about that tomorrow)
We stayed at the hotel long enough to eat more crack dip & decide that Uber wasn't available due to no one wanting to drive to the ghetto. So, we hopped in TS & headed for the French Quarter. That in itself was an adventure. I had a vague idea of where I was going but wound up on the backside of the parking lot I wanted to be in & then had to maneuver my way through the Quarter navigating one ways while trying not to hit pedestrians. Finally we made it & it was time to explore.
We took pictures by the Mississippi because that's how Minnesota girl's do. We met an adorable young man giving away praline samples, had a very disappointing supper of catfish poboys (which had the potential to be bomb had there been any sauce on the sandwich & any seasoning on the catfish...FAIL). We saw beautiful secret gardens. We danced in the street with strangers to a street band.
One of us stepped in questionable water on Bourbon Street. We drank hand grenades. We ate at Cafe du Monde. We had our tarot cards read...which was remarkably accurate to an almost creepy, I may have teared up a bit, degree. One of us got whiny around 8:30 & just wanted to go to bed. (I won't say which is which but I will tell you that the whiny person didn't step in street sludge.) We managed to stay out until nearly midnight before heading back to our cute little hotel in the ghetto to shower & go to bed in preparation for the big day ahead of us.