Friday
Christmas morning is always just for my immediate family. I got a couple of CDs, a few books, a gift card, some alcohol, & a new laptop. I had been using the same laptop since about 2010 where I needed duct tape to hold the battery in & it still had to be plugged in to turn on. Now I can proudly say I am duct tape free! After presents we had breakfast burritos & then began the task of finishing up all of the cooking & cleaning that needed to be done before my mom's side of the family showed up. Somewhere between noon & 1 people started showing up. This year we went with a Mexican theme & there was more than enough food as always. There were about 30 people that were there, which is actually only about 2/3 of that side of the family. My cousin made me a sweet travel fund jar so I could start saving for our next road trip, as well as waterproof paper, & an adult coloring book. Most of the day is actually a blur. We played that candy/gift in a giant shrink wrap ball game which was a lot of fun. I had seen it before but had never done it. I think I'm going to do that with my students some time for something.
Saturday
Saturday morning I woke up to snow. It's so much prettier when I only have to deal with it a couple of days a year vs many months. I ventured out into the snow to meet up with my high school best friend at a new coffee shop in town. It was pretty good. We had good time just hanging out & talking for a couple of hours before I had to head back home. Almost as soon as I got home we all turned around & headed out to my dad's sister's house for our 3rd extended family event in 3 days. The food was great, seeing people was nice, but I was so Christmas-ed out & tired. By the time we got home that night I was glad it was all over & wanted nothing more than my bed.
Sunday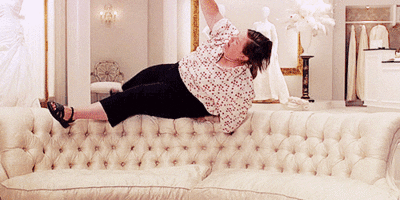 I did not leave the couch all day. After 3 straight days of go go go I needed to do nothing. I watched some football & movies on TV while I got everything transferred from my old laptop to my new one. My brother came over for supper that night annnnd that's about it. Short & sweet.
Christmas is over now & most everyone looking forward to New Year's Eve plans, wondering what 2016 will have in store for them, & starting their new year's resolutions. One of my goals for 2016 comes from my current 101 in 1001 & it's to complete Project 365. If you want to play along my IG is briannemcc & here are the prompts!